Tuesday, May 26, 2009
I kid you not. Check it out below. About 40 seconds in:


Posted by

KajaPoker
at 5/26/2009 09:52:00 PM
2 comments


Monday, May 11, 2009
So the weather is finally starting to get better and I even took Kajakid to the pool this weekend. Next on the adventurous agenda is camping. While I did my fair share of hiking and camping in the army, I think my daughter is going to love it. And since her best friend's dad suggested it, I figure we might give it a go.

I think baby steps are the way to tackle this monster. We'll probably put up a tent in the backyard just to see how the kids handle sleeping outside before we get a meltdown in the middle of the night somewhere far away from home. I can't just imagine it's 11pm and we have two crying kids wanting to go home, which is a 2 hour drive away or something.

The part I am not that worried about is the actual hiking. Yesterday these two ran circles around the living room furniture for a good 4 hours, so if anything, the problem might be my terrific physical state. One thing I know about myself (although a lot of time has passed) is that I can walk pretty much forever. And you can put a lot of weight on me too and it won't bother me. As long as there is no running involved.

So we're going to need to get the kids some hiking boots. I will probably need some things comfortable too. Although, I don't think the hiking part is going to be the main attraction. I think the smores will be. Kids love smores. Not sure what it is, but they love 'em.

Anyway, for all your travel and outdoor fun shopping try out shopwiki. Looks like they have everything you may need.

Beware of bears!
Posted by

KajaPoker
at 5/11/2009 03:44:00 PM
1 comments


I love cars and I love to drive. The longer the drive the better, I say. And I was just thinking the other day about my current car situation. Functional, but no fun. We have a Yukon and an MDX and it's mostly for safety and size.

Our last fun car was a BMW. My wife actually bought it for herself when her Ford Explorer lease was up, but then I ended up driving it because the MDX was easier for her to get a baby seat in and out of. That beemer was awesome with all the sports package upgrades and a stick shift. It was a sad day when we turned it in at the end of it's lease.

I've never really owned any fancy cars. My first car was my grandfather's Suzuki Swift, which is probably similar to a Geo or Kia(read: crap). It was great to get around in and had amazing gas mileage, but it was nothing to write home about.

What I did write home about were all the awesome cars I drove while working at a pawn shop in LA. We had an auto pawn license and people would just leave their cars for cash. Then it was my job to take these cars to our massive parking lot in the valley. So here's a list of my top 3 favorites:

1. '55 T-Bird: This thing was beautiful. It was brought to the store by some lady who took it from her husband in a bitter divorce settlement. She didn't care about it at all and pawned it right away, not ever intending to pick it back up. So after a few months it became store property and I got to drive it around on weekends. Cherry red, convertible, two-seater - what else could you want when you're broke and 23 years old in LA?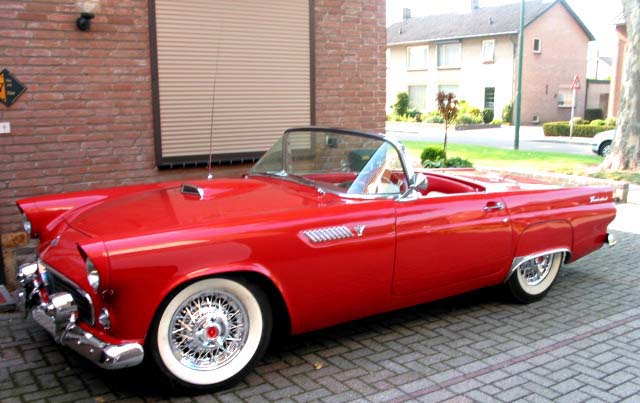 2. Porsche Carrera S4: Some Russian thug brought it in because the dealer delivered it in the wrong color. So he pawned it with about 25 miles on the odometer for about $50K. I actually had to go to the bank in a "nice" part of town to get the cash. With two big Rottweilers by my side. We drove it slow on the freeway and parked it indoors, then covered it with a silk parachute so that nothing bad happens to it. Was still a great experience.




3. Big-ass Monster Truck: Some redneck showed up with this beast and told me that the gas guage was broken, "so just fill it up everytime before you drive it." I drove that thing up the 405 in traffic and had everyone get the hell out of my way.




So now I'm driving my good 'ole MDX and thinking about what my next car will be. I'm in no rush. In the meantime I will leave you with a an old favorite. Take it away, Gary:


Posted by

KajaPoker
at 5/11/2009 10:18:00 AM
1 comments


Monday, May 04, 2009
I guess some poker content is due. I actually played a tiny bit online the other day. It all started when I won a little challenge by @Andy_Bloch on Twitter. Some fundage was sent to my FTP account so I needed to finally install the poker client to see how much money was in the account. On the way I also installed PokerStars, where I actually have some money left and PokerTracker3, which is all paid for.

I wasn't going to play seriously and saw that the quadruple shootout satellite to the WSOP ME was about to start. I jumped in knowning full well there is no way I can sit there for 6 hours and go through 10K player to take one of 10 spots. But it always feels good to get this when you're not even trying:




And the other guy shoved into me on the river. Nice.

Oh yeah, I won that table and waited forever for the others to finish. Then within two minutes of starting the second table we had a break. I was done and just shoved blind until I was out.

But that gave me a little confidence boost. I have no idea when I will be able to play again with a new baby and a ton of work. But it sure was fun.
Posted by

KajaPoker
at 5/04/2009 01:08:00 PM
0 comments